Emerging Leaders Fellowship Program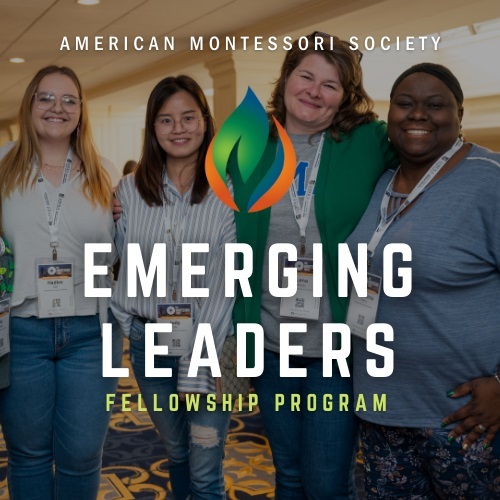 Do you see yourself as a future leader in the Montessori community? The AMS Emerging Leaders Fellowship Program is a professional development initiative that provides a year of structured learning, mentoring, and networking opportunities to Montessori-credentialed teachers who have not yet assumed leadership positions in the Montessori community—but would like to.
Fellows develop the skills and confidence to raise their commitment to Montessori education to the next level. They also earn 60 hours of continuing professional development, which can be applied to the AMS Professional Development requirement.
The selection process for each year's cohort of fellows is a competitive one.
What You Will Experience
You will be paired with a mentor who offers learning experiences tailored to meet your unique needs, interests, and qualifications.
The program launches with an intensive 2 days of professional development immediately before The Montessori Event in that year's conference city. This experience will be provided virtually and in person at The Montessori Event 2023 in Boston, MA.
The program concludes a year later with another 2-day learning experience in the next conference city. (Fellows are expected to attend the conferences; registration is complimentary.)
You will participate in monthly video conference calls that offer opportunities for collaboration and problem solving.
You will have access to an online forum that provides further opportunities for facilitated discussions.
You will be guided in creating a capstone project that addresses a need at your current organization—and a potential solution.
Timeline for 2022 – 2023
July 18, 2022: Application period opens.

November 6, 2022: Application Deadline

December 6, 2022: AMS notifies candidates of acceptance.

March 14 - 16, 2023: Program launches at the Montessori Event 2023, Boston, MA. Participants may join virtually or in person.

March 7 - 10, 2024: Program concludes at the Montessori Event 2024, Orlando, FL.

Upon Graduation
Fellows who successfully complete the program receive:
An AMS Emerging Leaders Fellowship Program certificate attesting to their participation in a rigorous, 60-hour course of study*
Name recognition in AMS publications and at The Montessori Event
Ongoing opportunities for mentorship and networking with their cohort group
* Note, the certificate is neither a substitute nor a replacement for an AMS Administrator or Teacher credential.
In addition, fellows may be encouraged or invited to:
Serve on AMS committees.
Participate as volunteers on a school accreditation visiting team or a visiting team for AMS teacher education program affiliation.
Volunteer for a leadership role within their state/local Montessori association.
Hear from Past Emerging Leaders
Why Emerging Leaders Fellowship?
The Importance of Mentorship
Application Process
Are you interested in taking next steps toward participating in the Emerging Leaders Fellowship Program?
Apply
The process begins by completing our formal application. Once the application has been submitted, your indicated supervisor and character references will each receive an email notification to complete their portion of the application process which includes a Supervisor Affirmation and Character Reference Formal Recommendation. Applications will be accepted on a rolling basis until the cohort is full.
The applicant may wish to manually send these forms by using the forms below.
The deadline to apply is November 6, 2022.
Who may apply?
We accept applications from any individual who aspires to be a leader in the Montessori community and meets these criteria:
Is a current member of AMS
Holds an active AMS-recognized Montessori teaching credential.
Is not currently in a leadership position, either as a head of school or director of a teacher education program.
AMS is committed to diversity within the Montessori community, including the backgrounds of its leaders. To that end, we encourage applications from global AMS members, people of color, LGBTQ people, and other marginalized communities.
Selection of Fellows
AMS Emerging Leaders Fellowship Program applicants will be reviewed by a committee of AMS staff and volunteers who will evaluate and rank each applicant's written responses and letters of recommendation. Total scores are then considered alongside various demographic criteria to ensure a diverse, well-rounded group.
Fees & Expenses
Fellows are responsible for the following expenses. If the fellow's employer will be covering the expenses, that arrangement must be made directly between the fellow and their employer.
Program fee: $2,800.
Travel, meals, and lodging for attendance at The Montessori Event 2023 and 2024. (AMS provides complimentary Full registration.)
Any expenses incurred for the fellow's yearlong project, such as books and/or supplies.
Scholarships
The AMS Diversity, Equity, & Inclusion Scholarship Program provides financial support for four eligible applicants of the Emerging Leaders Fellowship.
What each scholarship covers:
Emerging Leaders Fellowship program fee: $2,800 value
Travel stipend for The Montessori Event 2023, 2024 : $800 value*
Total value: $3,600
*Conditions Apply
Key Dates
November 6, 2022: Application deadline
December 5, 2022: Notification of Program Acceptance
December 5, 2022: Notification of Scholarship Winners
Who may apply:
Anyone who meets the professional and academic eligibility requirements for the Emerging Leaders Fellowship, and can demonstrate financial need, may apply. Applicants do not need to be AMS members.
Special consideration will be given to applicants who:
are of color and/or from under-resourced populations, including LGBTQIA and developing nations
are disabled
are members of a protected class under State or Federal law
show leadership potential working with teacher education programs and adult learners, especially those who are in any way disenfranchised, such as economically, racially, religiously, socially, geographically, socially, or politically
work in Montessori TEPs and/or schools serving racially diverse communities and/or under-resourced populations
How to apply:
Complete and submit the AMS DEI Scholarship Application. For more information on requirements, please contact us.
| Access Date | Quiz Result | Score | Actions |
| --- | --- | --- | --- |
Did you know?
AMS members get unlimited access to AMS Learning on demand videos for free! AMS membership is only $98. Learn how you can save on professional development, discounts to events, and more.
Recent Announcements

Montessori Life Blog