AMS Emerging Leaders Fellowship Program
---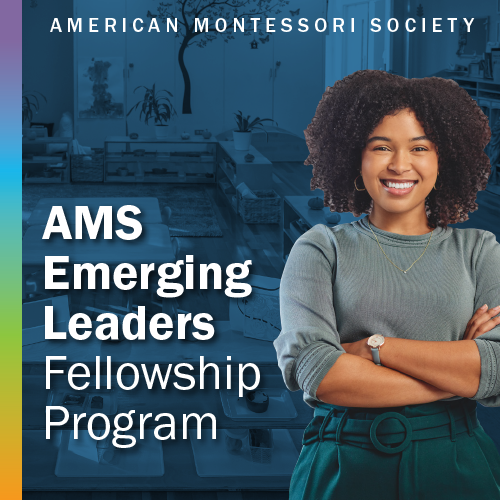 "If students get from this course what I hope they will get, they are going to be where I was 15 years into my career."
- Eric Dustman, Emerging Leaders Fellowship Program Facilitator, 2023 – 2024
AMS Emerging Leaders Fellowship Program cultivates highly qualified future Montessori leaders who are equipped to drive impactful change within their organizations and the larger AMS community. Gain the skills, knowledge, and confidence to take on leadership roles and make a lasting impact.
Join a diverse cohort of up to 25 colleagues who will work together through a year of intensive learning and professional development. You will be paired with an experienced mentor to help you navigate through the fellowship and prepare for leadership in the Montessori community.
Do you see yourself as a future leader in the Montessori community?
Deadline to submit application for the program has been extended to: December 3, 2023 at 11:59 PM (ET).
Learn from a mentor in the field of leadership who will offer personalized learning experiences that meet your unique needs, interests, and qualifications
Receive tailored support, resources, and valuable insights from author and facilitator, Eric Dustman, who has over 30 years of leadership experience
Foster professional growth through a yearlong fellowship of leadership professional development
Create a capstone project that will address a need in your community
Access to action research guidance (sometimes called "teacher research" or "teacher-as-researcher") from AMS Living Legacy, Gay Ward
Complimentary in-person registration to The Montessori Event 2024 and 2025
Access to private online community where you can engage with fellow participants
About the Program
---
Fellowship kicks off in person at The Montessori Event 2024 in Orlando, FL. Participants will spend 3 days together building relationships and preparing for an exciting year of professional development and mentorship.
Deadline to apply: Extended to December 3, 2023 at 11:59 PM (ET)
Time Commitment: 1-Year program with online meetings through Zoom
Notification of Acceptance: Early December 2023
Program Start Date: March 5 – 7, 2024, with 3 days of pre-conference events at The Montessori Event, Orlando, FL
Program Concludes: March 12 – 13, 2025, with 2 days of pre-conference events at The Montessori Event, Denver, CO
What You'll Gain
---
Successful graduates of the Emerging Leaders Fellowship Program receive:
An AMS Emerging Leaders Fellowship Program certificate attesting to their participation in a 60-hour course of study*
Opportunities to publish and present your work
Recognition at The Montessori Event and in AMS publications including but not limited to Montessori Life magazine and online blog
Opportunities to serve on AMS committees and volunteer for leadership roles within your local/state Montessori association
*Note, the certificate is neither a substitute nor a replacement for an AMS Administrator or Teacher credential. A certificate of AMS Professional Development Hours will be emailed upon completion. An opportunity to purchase a CEU certificate for 6 CEUs will also be made available upon completion of the class at a cost of $28.
Fees & Expenses
---
Fellows are responsible for the following expenses.
Program Fee: $2,800*
Travel, meals, and lodging for attendance at The Montessori Event 2024 and 2025
Any expenses incurred for the participant's yearlong project, such as books and/or supplies.
*Program Fee includes complimentary in-person registration to The Montessori Event 2024 and 2025.
A Few Words from One of Our Graduates
---
Tatenda Blessing Muchiriri
Chief Dreamer
Montessori on Wheels
"It was really a program that launched me in the Montessori community. I was able to connect with amazing, powerful teachers and leaders who are doing the most when it comes to access and innovation in which they reimagine Montessori."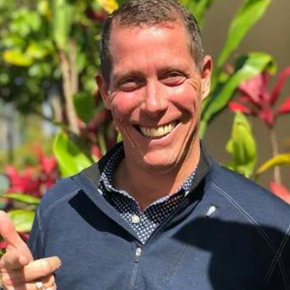 Eric Dustman
Author of: From the Head: A Resource of Letters to Motivate, Inspire, and Affirm Leaders
AMS Credentialed: Elementary I & II
Eric L Dustman, PhD, is a head of school specializing in learning and development among children and staff. Over a 30-year career, he has written and presented extensively, lending expertise and ideas to the discourse about human development and welfare. Creative, energetic, and passionate, Eric has led in public, nonprofit, and international environments to actively promote the value of communication in relationships and connection. Efforts to support and develop capacities among aspiring leaders and others have been a focus, resulting in the authoring of multiple books and articles, speaking engagements, and the cheerleading of many AMS initiatives over his professional career. Eric Dustman served on the AMS Accreditation Commission from 2009 – 2018, and was the chair for five of those in addition to serving on the Commission's Nominating Committee.
| Access Date | Quiz Result | Score | Actions |
| --- | --- | --- | --- |
Did you know?
AMS members get unlimited access to AMS Learning on demand videos for free! AMS membership is only $101. Learn how you can save on professional development, discounts to events, and more.
Montessori Life Blog

Recent Announcements