Elementary Reading Certificate Program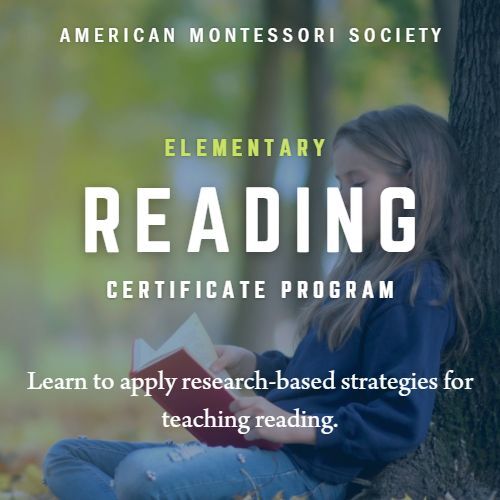 The AMS Elementary Reading Certificate Program is designed for Montessori teachers who are interested in applying the science of reading by engaging the most recent research-based strategies for teaching reading in their Montessori classroom. Participants will develop an understanding of the essential components of reading and reading continuums that allow Montessori teachers to follow children's development as readers. Matching children to their developmental stage on the continuum leads to an exploration of literacy strategies that support individual children. Participants will leave with a toolkit that enables them to extend the Montessori curriculum and enhance the reading development of children.
We are now accepting registrations for the following cohort. See detailed timelines for each below:
Cohort 6 (Fall 2023): October 23– December 17, 2023.
What to Expect
You will join a cohort for a two part course. The program consists of 6 modules of self-guided study and live experiences held via Zoom. The course is split into two sections: Part 1 is theoretical and Part 2 offers strategies and tools to explore the science of reading within your own environments and the children you work with. There will be assignments that are designed to be reflective and to enhance your understanding of the science of reading, both in theory and in action.
For: Elementary 1 (6 – 9) and/or Elementary 2 (9 – 12) Montessori credentialed teachers, school leaders, and interventionists
Format: A blend of live (synchronous) experiences held via Zoom and on-demand (asynchronous) content
Time Commitment: 36 – 40 hours total (please see timelines below)
CPD Hours: 36 - A certificate of AMS Professional Development Hours will be emailed upon completion. An opportunity to purchase a CEU certificate for 3.6 CEUs will also be made available upon completion of the class at a cost of $28.
Cost: $800 non-members | $650 AMS members
Upon successful completion of the program, you will be awarded an AMS Elementary Reading Certificate attesting to your mastery of the program.
Group Discounts Available
AMS is excited to offer a variety of discounted group packages for this course. Group registrations must first contact us to be discounted.
5+ registrants: 5% discount
10+ registrants: 10% discount
20+ registrants: 15% discount
30+ registrants: 20% discount
Program Modules & Outcomes

Essential Components of Reading
---
Define the five essential components of reading

Continuum of Reading
---
Describe the purpose of the continuum of reading

Assessment Tools
---
Recognize the purpose of commonly used classroom-based assessment tools

Strategies & Science
---
Name instructional strategies supported by the science of reading

Montessori & 5 Essential Components
---
Use the Montessori curriculum to support the five essential components of reading
Timeline
Registration deadline: October 16, or until cohort is full
October 23: Program begins
December 17: Program ends
Live sessions will be held via Zoom on Thursdays, 7:00 – 8:15 PM (ET).
Schedule
Modules 1 – 4
October 23 – November 19
Live Sessions via Zoom on: October 26, November 2, November 9, November 16
Module 5
November 27
Live Session via Zoom: November 30
Module 6
December 11
Live Session via Zoom: December 14
Closing up for assignments being due on January 5, 2024.
Meet the Facilitator
Linda S. Zankowsky
Linda S. Zankowsky, EdD, is the director of the University of Delaware Montessori Teacher Residency in Professional and Continuing Studies. Linda has 33 years experience as a reading specialist, classroom teacher, school principal, and head of school at Wilmington Montessori School, DE. Her focus is on literacy and assessment, social curriculum, and building professional learning communities. Linda serves as board chair of Sussex Montessori School and as chair of Montessori Works. She has consulted nationally with many Montessori schools and been a frequent presenter at The Montessori Event on the topics of reading and writing.
Special thanks to Dr. Vanessa Rigaud, Xavier University, for her service to the development of this program.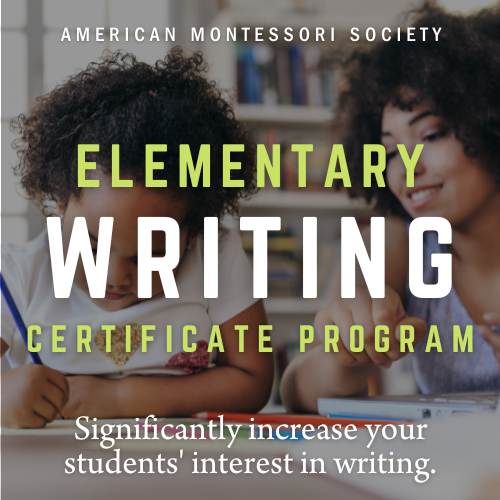 Looking for more Elementary I – II courses?
The AMS Elementary Writing Certificate Program is designed to shift teaching writing in a way that promotes collaboration and curiosity in the learning environment while significantly increasing students' interest in writing.
| Access Date | Quiz Result | Score | Actions |
| --- | --- | --- | --- |
Did you know?
AMS members get unlimited access to AMS Learning on demand videos for free! AMS membership is only $101. Learn how you can save on professional development, discounts to events, and more.
Montessori Life Blog

Recent Announcements